ForPaws Cat Sitting Service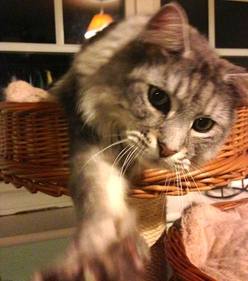 Cat owners often feel anxious about spending time away from their beloved pet. Many cats become distressed in a cattery, some even become aggressive or withdrawn and behave noticeably different when they return home. This has led to many owners preferring to use a cat sitter, but choosing the right one for them is a difficult decision.
Who can they entrust keys to and how can they be sure that their cat will receive the care they need and that they have paid for when they are away? After spending so much time finding the right sitter for them, what happens when they are fully booked or away during peak periods, when they are needed most?
Why Chose ForPaws?
At ForPaws, we take the worry out of pet care for our customers. New clients receive a free introductory meeting with one of our experienced team, who will become their dedicated sitter. Our fully insured and vetted (DBS/CRB checked) pet carer will review and confirm the details of your booking, spending a little time with you and your cat to get to know you both and enabling the both of you to get to know her! Our staff can also offer to show you glowing references from existing ForPaws customers who have been delighted with our services.
Each time we visit, your cat will receive plenty of fuss and care, and we will carry out any extra tasks agreed, such as watering the plants or picking up the post. After each visit, you will receive a reassuring text message from us to keep you updated on your pet - often with a little picture too!
We have plenty of experience of helping cats or pets who need a little extra TLC. If your cat needs regular medication then we are happy to oblige. If your cat has frequent visits to the vet for an ongoing condition, we will happily continue this for you as needed, liaising with you, or your emergency contact and making arrangements to see the vet on your behalf.
Subsequent bookings also couldn't be easier. Our clients receive access to their own Customer Portal on which they can check their invoices and bookings, make adjustments to existing bookings and request new ones.
Our team are available 365 days of the year too, so once you become a ForPaws customer you will never be without someone to take care of your feline friend. We always aim to book you in with your dedicated cat sitter each time, but if they are away or fully booked, then another one of our experienced team will step in to help. Your regular sitter will update them on your requirements, and you of course can arrange to meet them before the booking too.
So, if you are looking for a professional cat sitting service who tailors each visit to your individual needs, get in touch today.
Prices
Our prices for a 30 minute visit start from £11, which is charged at a rate of time and a half for weekends, and double time for bank holidays.
To book our cat sitting service simply complete our booking form and we will be in touch to arrange your free consultation with our cat sitter.