Client Feedback on our Dog Walks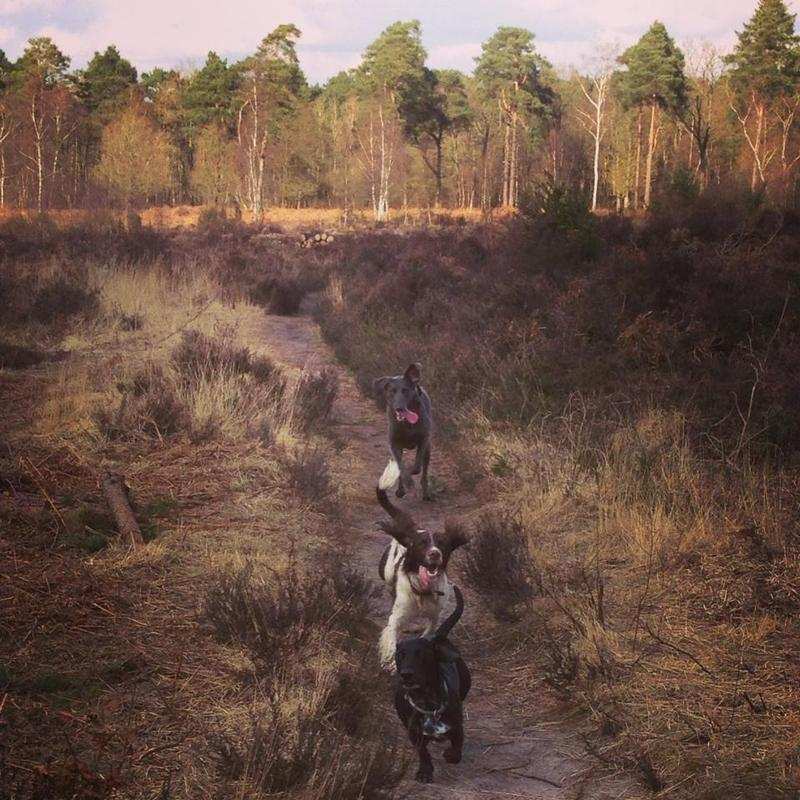 Jo and Rick with Monty and Fletch: We have been using ForPaws dog walking services for 18mths now and from week one with Sarah and Corrine, we have never looked back. We value the time and dedication that has been put into creating a workable relationship with our dogs both with the wonderful dog walkers and the other dogs that the boys walk with. On top of that supporting us with the changing needs of a growing dog through adolescents to a young adult dog finding his paws in the world, we couldn't have done it without you all. Sarah is a dream worth her weight in doggie treats, the boys love her
Claire and Jerry: Corrine and Sarah at For Paws have been amazing. My rescue dog Jerry is very fearful and needs to have specially adapted walks with lots of positive reward based training and as good understanding of his behaviour and body language. He is mainly walked by Sarah who has put lots of effort in to learn his needs. He really enjoys his walks with her. I can always rely on For Paws. If Sarah is away, there will always be someone to cover. If they haven't walked him before, they will come on a walk with me to learn his needs prior to the cover. I always get a text after every walk so I know how it went which helps me to progress his training. The service my dog and I have received has been excellent. I would highly recommend everyone at For Paws.
Sarah with Molly: Both Charlie and Jacki were lovely and everything went smoothly. Molly obviously felt comfortable with them both and enjoyed her walks/playtime. It was great for us to be out for the day knowing that Molly was so well taken care of and we would definitely use them again. Many thanks for arranging the visits at short notice, much appreciated.
Nicola with Lola and Gunny: I have tried other dog walkers in the past but none compare to Forpaws. The service Corrine provides is fantastic and my dogs are so happy and contented when I arrive home from work. Corrine keeps us constantly updated on the walks with photos and texts so I never need to worry. ForPaws have proved invaluable to me and have enabled me to return to work reassured that my dogs are in good hands. Thank you ForPaws!
Charmian with Rafferty: Rafferty looks forward to his walk every week with Corrine and his companions and we have noticed how the group walks really lift his spirits. He waits on the mat for Corrine to arrive and is so excited to see her. Corrine is reliable, friendly, kind and patient and the most important thing - Rafferty loves her!
Claire with Bella: Bella is always happy to see Corrine and really enjoys the ForPaws walks whether she's by herself or with Bailey, another ForPaws client. I cannot recommend ForPaws highly enough. They provide a friendly, knowledgeable and reliable dog care service. These attributes are welcome on any day but become even more important and genuinely tested on the not so simple days that all dog owners will be familiar with. When Bella was recovering from a leg injury which required follow up vet visits, house rest and then lead walks, ForPaws were able to offer the care that Bella needed. I have found ForPaws to be truly unique in that they can tailor their care to your dogs needs.
Lisa with Bailey: Corrine is great with Bailey our beagle! He absolutely adores her and gets very excited every time she arrives to pick him up. She is 100% reliable, very flexible and always finds the time to help us whenever we need her to walk Bailey. She takes him on some great walks with other dogs, manages him better off the lead than we do and he always come home from a walk very satisfied and tired. I can't recommend Corrine and her dog walking services enough.
Dawn with Alfie: As a working Mum for two Labradors I find that I cannot guarantee walking them as regularly as they need. Corrine has become an integral part of our world. My younger dog Alfie belts down the stairs when he sees her car pulling into the driveway - he can't contain his excitement. His Mum Emma is almost 14 and rather deaf but once she realises Corrine has arrived she too is so pleased to see her. The regular walking has improved Emma's mobility and she now can almost get upstairs unaided. Corrine has been 100% reliable and when Alfie needed emergency vet care she acted swiftly and with great care for him. I have NO hesitation in recommending Corrine and her services to any pet owner.
Jenni & Alex with Paddy: What can we say, ever since we first met Corrine, we have had an excellent relationship and she has worked tirelessy with us and Paddy, our rescue Dalmation (with issues!) to resolve them. Corrine walks Paddy 3 times a week currently and we have had basic training with her all of which has been very positive for both us and Paddy. Paddy loves Corrine and we know this because he gives her lovely cuddles which he doesn't give out lightly. Thank you ForPaws and keep up the excellent work you are doing. Building a business is hard but keep at it as you are doing all the right things and the hard work is paying off. Thank you.
Suzanne with Sammy, Tuppence & Humphrey: Extremely happy with For Paws - my dogs get so excited to be off on a walk with Corrine and come back with such tales to tell! I love the text updates and frequent photos - highly recommended!