ForPaws Year 3 (and a Bit!)
Posted on

I'm ashamed to say, my poor blog has been a little neglected of late! Between training, dog walking, hiring new staff, studying, sorting new terms and offering behaviour consultations, I have been a little overstretched, so I thought I would write a quick little update on the business over the past year and a quarter...
As we finish off the first quarter of our 4th year as a business, I'm proud to say that I now have a team of 4 regular members of staff, Sarah Sorgi, Michelle Bialogrodzka, Hannah Cubbon and Nick Stafford, as well as Caroline Woods who helps us out on school holidays.
Taking on new members of staff is something that has, if I'm honest, been a very nerve wracking experience. When you have invested so much time, energy and money into your business and worked on building a glowing reputation, taking the plunge and bringing in new people is a little terrifying! I had been so very lucky to find Sarah and Michelle in 2013, who appeared and just instantly got to work and have kept our customers so happy, it was scary to have to start the process all over again. Thankfully I have a new team of 'helpists" on board, my lovely partner Matthew (who loves going out on dog walks in his spare time to help out - although I'm ever thankful he does not bring the dogs home with him as he keeps threatening!) who is an expert in business development and my lovely friend Gill, who is a learning and development expert. They have both assisted me in advertising, going through cvs, interviewing candidates, drawing up contracts and even putting together competencies for our team members! Oh yes, we are really bringing the professional business world into pet care!
In 2014 we recruited the lovely Rebecca Goodship, who took over several walks that I had specifically taken on to hand over to a new team member, which meant that when Rebecca started, I was rather relieved to no longer work the schedule of one and a half dog walkers each day! Things did not slow down there though, with three regular members on the team, admin became increasingly time consuming, and as the training and behaviour business continued to expand alongside my own walking schedule, I felt myself increasingly pulled into different directions and constantly worried that my lack of time would impact the service our customers valued.

A chance free window between bookings one day, gave me time to sit down with a coffee and really look at my sums and the schedule. It was time to look at passing my walks onto another new team member and moving to managing the pet care business part time, alongside the behaviour and training aspect... and so shortly after, Nick Stafford joined the team. Nick had attended our puppy classes and thought that dog walking and pet care with Forpaws sounded ideal for him and great fun. I trained him up to cover my group walks and now he runs these on a daily basis. The group walks are not easy to manage, so Nick and I worked closely together initially, before he took the plunge for his first solo walk with them - which went swimmingly! Any changes to the groups will be managed by me to ensure that they stay the happy, contented walks they should be, with dogs who are well behaved enough to be a shining example of the way dog walks should be!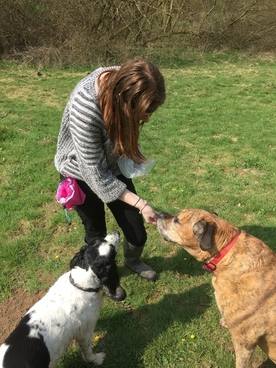 And of course with one issue resolved, another cropped up, sadly Rebecca was moving away and needed to move on. Thanks to all the coaching and help from Matthew and Gill, recruiting a replacement was a much more straightforward process and I met the lovely Hannah, who has spent much of her life working, studying and volunteering with animals. Hannah joined us a few weeks ago and the dogs have been loving all the fuss from their new walker and friend and it has been lovely working with Hannah and introducing her to our customers and their pets.
So a rather busy year and a quarter! I would like to thank all of our lovely customers for their wonderful feedback, encouragement and support during a very busy time and for recommending us to so many others. I know that myself and my team are feeling very grateful to be able to spend our day looking after your lovely pets - so we hope you have a fantastic 2015 and hope to see you at one of our pet-related events later in the year… more details soon!