Keeping Dogs and Children Safe - 19th April 2016
Posted on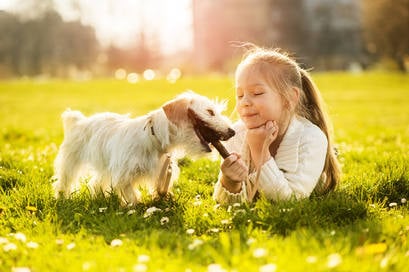 On the 19th April 2016, at 7.30pm, qualified dog trainer and behaviour advisor Corrine Lisle, will be giving a talk on how parents and dog owners can ensure that both their dogs and their children stay safe when interracting with each other.
Many dog owners lament that children just do not know how to behave around dogs any more and that their parents do not help as they themselves are unaware of how dogs should be approached. Still many more parents worry about the health and safety risks that dogs pose to their children - media coverage of incidents and tragedies are often filled with misinformation, that simply serves to confuse and concern. Expectant parents who are dog owners, become worried by the well meaning, but often uninvited and uninformed advice of friends and relatives, motivating them to consider rehoming their beloved companion and rescues, breeders and rehoming charities are overwhelmed with requests to find what was once a forever pet a new home.
It doesn't have to be this way! Dogs and children can be safely managed together!
This talk is essential for dog owners, parents, grandparents and anyone responsible for looking after children and dogs together, such as child minders, nannies and dog trainers. It will cover:
The facts! Common factors in dog safety incidents.

Canine body language - signs to look out for.

How you can ensure that children are safe around your dog.

Preparing your dog for a new addition to the family.

Games and training for your dog and child.

Rules for parents to teach children.
Prices & Venue
£15 - Per Person
£20 - Per Couple (friends, parents or spouses welcome as a couple)
Discounts available for existing ForPaws clients - please ask when booking.
Registration will be from 7.15pm and the talk will start at 7.30pm, lasting for approximately 2 hours to include a question and answer session. The venue will be our regular training class venue of:
Shackleford Village Hall
Shackleford Road
Godalming, Surrey
GU8 6AE
Tea, coffee and cake will also be served at the start of the talk!
To book please complete the form below.