ForPaws Structure
ForPaws UK Ltd has been growing from strength to strength in the past 5 years of being a business. In late summer 2016 we registered as a limited company and took on our first employee.
We have been careful to balance the needs of our staff with the needs of our clients, whilst remaining a profitable and competitive business. We want to ensure complete clarity for our clients, so this page simply explains our business structure, so that our clients know how much work we put into providing them with an efficient, trained, proffesional and reliable pet care team!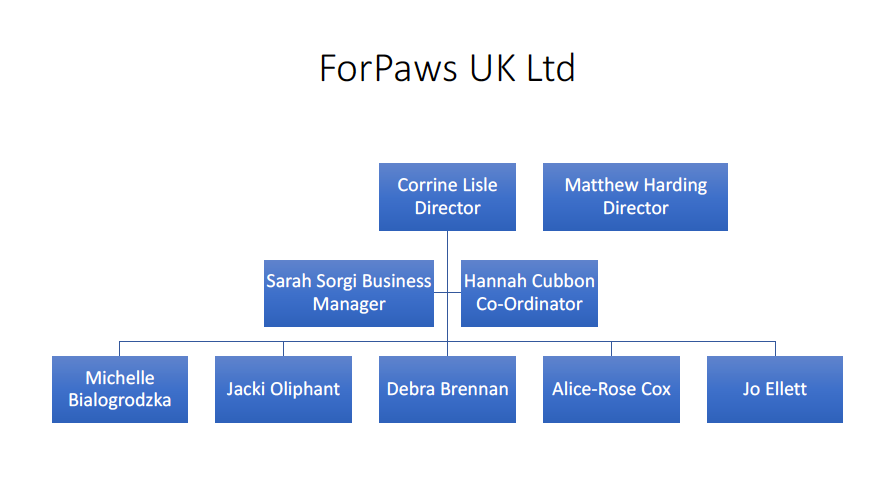 ForPaws UK Ltd's two directors, Corrine and Matthew, are now focused on ensuring that we keep growing from strength to strength and are able to offer our clients more for their pets care than ever before.
Sarah is the Business Manager and she oversees the accounts and administration of the business and is responsible for co-ordinating and delivering the training of our new staff, as well as handling any client feedback or problems.
Hannah is our dog trainer, chief dog walker and Business Co-Ordinator, being the first point of contact for new clients and managing the schedule, as well as for any issues that our team may have during the day.
We then have a wonderful team of our 'ForPaws Pet Carers', Michelle, Jacki, Debra, Jo and Alice-Rose. This team are contract staff, which enables us to meet our clients demands with maximum flexibility. This team have all had DBS (formerly known as CRB) clearance, have glowing references from their existing customers and receive regular training in ForPaws procedures and policies and animal handling.