Whats New with ForPaws? Update 2021
Posted on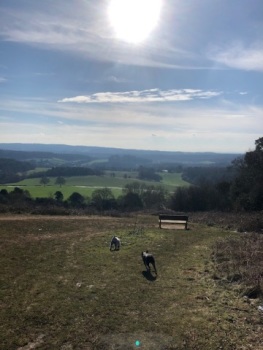 Is it just me or does it seem absolutely crazy that we have been living with the pandemonium of COVID for over a year now!? As it has been a REALLY long time since I've done any business updates for our clients and friends I thought I would let you all know how we've been getting on in the recent years.
Some of you will recall that several years ago we became a company 'ForPaws UK Ltd'. I felt that was the best move as we grew and took on a van and employees in an effort to afford to register for VAT as our turnover was reaching that level. Sadly we struggled with many of the same issues anyone who has the grand idea of running a pet care business with staff has. The costs are just too high! As we worked hard to upscale, it became clear that registering for VAT was either going to write off any profit we made (and put us at risk of running at a loss if we had any big bills) or raise our prices so high that we would lose customers. So we began the business of winding up the company several years ago and reverted back to being a sole trader business. The saddest part of this meant relinquishing our gorgeous ForPaws van and saying goodbye to Hannah Flemming who was only with us a few short months but who we and the dogs loved.
It was a hard learning experience for me, but we emerged last year, finally running healthily again and ready to recover… then COVID hit. I suspect many businesses have the same story and my heart goes out to all the businesses who have worked so hard to keep afloat during this crazy time. Let's hope that we can all get back to some semblance of normal soon!
The ForPaws team have been absolutely amazing during thos time however.
Sarah Sorgi who many of you will know as a walker, cat sitter and manager of the team, has been an absolute rock and kept the business running during a very busy time before COVID. Sarah is currently focusing on walking and sitting as things have been a little too quiet for ForPaws to need a manager at the same level as 'pre-COVID', but I am hoping that things are picking up and we will need to ask for her help again soon. ForPaws will be celebrating its 10th birthday in December and Sarah has been with us since the 2nd year! We are so lucky to have her on board and I know I would be lost without her!
Michelle Bialogrodzka is still cat sitter extraordinaire in Godalming and Haslemere – Michelle's clients adore her and I know their cats do too as she often sends me pictures of them playing and cuddling! Our cat sitting service has just gone from strength to strength – and whilst we know our website is pretty, I know that it is good word of mouth from clients about our lovely team that is the main driver for this.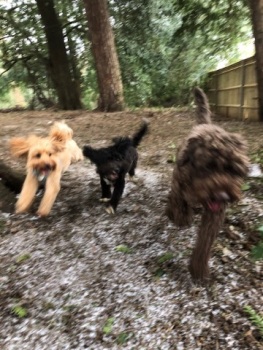 Jo Ellett is mostly now doing group dog walks and the odd cat sit for us. Jo does our group walks and has a great time with the dogs rushing round the Surrey Hills countryside, exploring and playing. Jo is excelling at getting the right match of dogs together on our walks, so that dogs can exercise around other dogs of a similar personality type - this makes walks fun and pleasant for all of them! Jo has been taking lots of video footage of this that I am hoping to compile into a longer video for the website and Facebook page.
Finally we were also most recently joined in the last two years by Emma Knight and Rosemarie Earlam – who we are so grateful for, as our cat sitting service has been so in demand (COVID times excepting!) that we had needed a larger team! Emma and Rosemarie have fitted into our little team beautifully and we have been thrilled to receive lovely client feedback following their visits.
So that is a little update on Team ForPaws! I hope that all our clients and friends and pets are keeping well. We have been over the moon to start receiving bookings again from many of our cat owners and can't wait to see those gorgeous Felines over summer!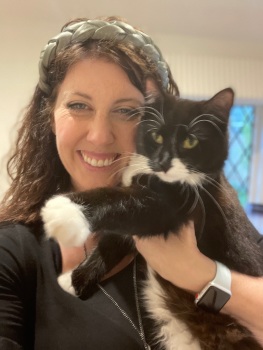 Here's to summer 2021 and hoping to see you all soon!
Corrine
PS Here is me with my lovely new kitten Penny! She was a 'COVID Pet' a new addition to my house with her brother Elvis, who is a short haired tabby! So funny that they look so different! It was their birthday this weekend just gone - happy birthday kitties!