"My dog only knows sit"!
Posted on
(This is a copy of the advertorial that many of our customers who receive the Pepperpot may have read in this months issue...)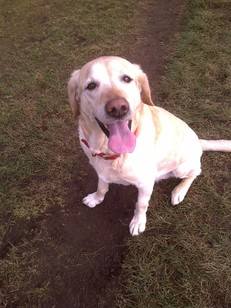 You are on a lovely off lead walk with your dog, Fido, when suddenly a deer runs across your path and Fido chases it towards a busy road... At home Fido almost knocks over your elderly aunt in an overenthusiastic greeting… You walk into the kitchen and see Fido up on the counter about to steal tonight's steak… These are familiar scenarios to many dog owners!
You could work on a variety of different cues to prevent or deal with these situations. Or you could simply use Sit, an instruction many dogs know. Fido cannot chase deer, jump up, or steal steak if he is in a Sit. That humble Sit suddenly seems a little more useful doesn't it! Unfortunately many owners know that their dog wouldn't even manage a Sit in these cases – why?
Because dogs don't generalise well. They need to be trained in a variety of different environments to really learn to do something every time they're asked - so if they've only ever learned to do Sit at home and in your garden, this is not enough. Did you learn to drive by only driving up and down your road, or did you need to practice on lots of different roads? As they say, practice makes perfect.
Simple training can effectively solve and prevent a wide range of dog related problems in home and out and about. But what do you do if you don't know where to start with training your dog or puppy? A professional dog trainer can help.
ForPaws is owned and run by Corrine Lisle, a professional dog trainer and a member of the APDT, IMDT and Pet Professional Guild - these memberships assure you that you will be taught modern, effective and force-free techniques. ForPaws coach you to effectively use positive reinforcement training methods to motivate your dog to follow your instructions. We offer a variety of training options to suit busy families including:
Adult dog training classes - next starting 13th July.

Puppy classes - next starting 27th July.

Private home training courses or consultations at times to suit you.

Training sessions to spend time training your dog or puppy on your behalf.
ForPaws also offer Dog Walking and Cat Feeding services. For more information or to book, visit www.forpaws.net or call us on 01428 748188.